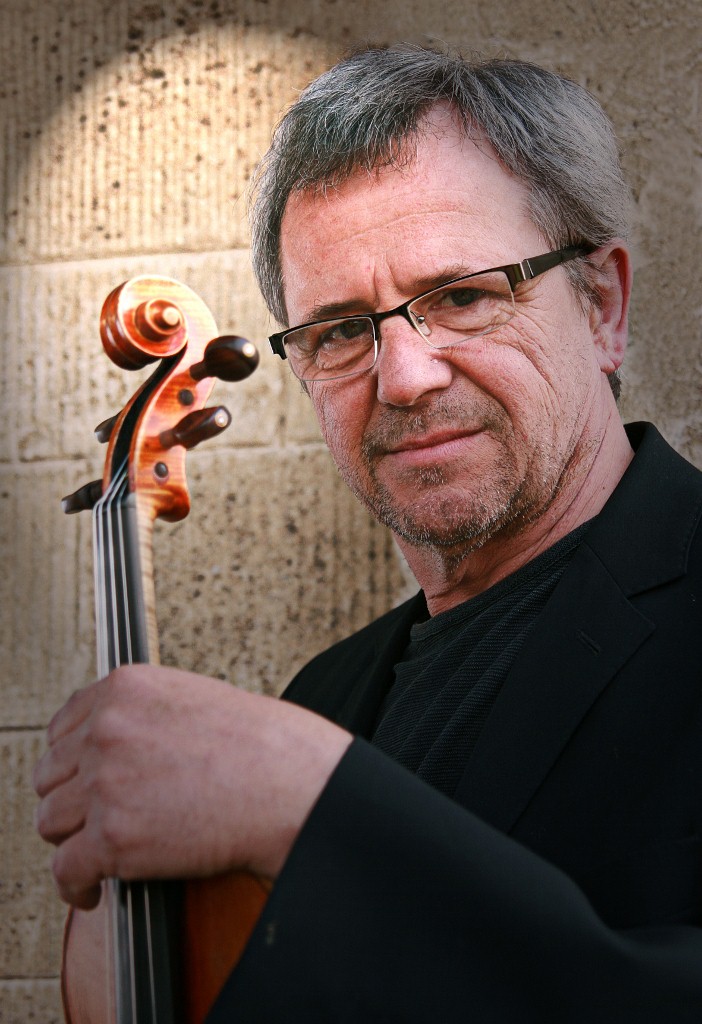 Janos Selmeczi is one of the leading hungarian violinist of his generation.His concerts bring him regularly around the world and raving reviews:

"…János Selmeczi(Violine)…Sein gepflegter Ton und sein, auf jegliche Effekthasscherei verzichtender Vortratsstil kamen voll zur Geltung…" Új Magyarország
"…The string Eder Quartet from Hungary… a reputation as one of the most distinguished of ensembles and its Wimore Hall recital confirmed its impressive
interpretative and technical strenghts…" The Daily Telegraph
"… und mit einem phanomenalen János Selmeczi inmitten seines untadelig differenzierten, ausgeglichenen Quartet Ensembles."
-Oberbayerisches Volksblatt
"…Wir weisen wieder auf die schöne Entwicklung des Violonisten János Selmeczi hin, der eine dem Stil entsprechende und selten erlebte Musikalitat und Technik
  sein eigen nennt."-Steaua Rosie
Many of his recordings with Eder Quartet, Camerata Transsylvanica,Budapest Festival Orchestra received enthusiastic praise and were the Editor's choises of
magazines like the BBC Music Magazine, Gramophone,The American Record Guide,The Penguin Guide etc…
As the leader of Camerata Transsylvanica Chamber Orchestra ,he was awarded the International Liszt Grand Prix Du Disque in 2002
Janos Selmeczi is a prize- winner of several music competitions,he was the winner of the Sándor Végh Competition Budapest in 2003 and 2005.
Concerts have taken him to several European countries as well as to the USA, South America , Australia, New-Zealand and the Far East.
He performed in such acclaimed halls like Wigmore Hall, Royal Albert Hall(London), Musikverein and Konzerthaus (Vienna),Carnegie Hall,
Avery Fischer Hall(New York), Concertgebouw (Amsterdam) ,Suntory Hall (Tokyo)etc…
As a soloist Janos Selmeczi has apperaed with leading Orchestras including Budapest Festival Orchestra, Hungarian National Philharmonie,
Transsylvania State Philharmonic Orchestra and played under the baton of famouse conductors like Erich Bergel,Kobayashi Ken-Ichiro,Yehudi Menuhin,
Sir Georg Solti,Ivan Fischer,Tamás Vásáry,Rudolph Barshai Charles Dutoit, Kurt Sanderling, just to mention a few.
He is asked often to join for chamber –music, he is a regular partner with artists Zoltan Kocsis,Miklos Perényi,Jenő Jandó,,Lajos Lencsés,Barnabás Kelemen, etc…

From 1986-1997 Janos Selmeczi was the first violinist of the world famouse Eder Quartet, which lead him to many concert tours and several CD recordings,
the Complete Mozart's String Quartets and Quintets Edition and the Complete Shostakovich's Quartet Edition,which won the BBC Music Magazine's "five star review" in 1998 .

In his concert appearances he has performed music ranging from the renessaince to the present, and works closely together with contemporary composers,
often giving the first public performance of their works (Veress, Kurtág, Eötvös,Lajtha,Kocsár, Orbán, Vajda, Csemiczky etc..)
As a professor , Janos Selmeczi has given annual master classes in Hungary,Romania and Japan.
Janos Selmeczi has many years of experience as a concertmaster.
He was the concertmaster of world leading orchestras including the Budapest Festival Orchestra, The NHK Symphony Orchestra Tokyo, The Hungarian National Philharmonie,
The Hungarian State Opera, Orchestre National de Lyon, etc…

Born in Transsylvania in a family with long musical tradition, he received a wide ranging musical training from his father, who was a pianist and conductor.
Janos Selmeczi soon started his studies at the Music Academy in Kolozsvár (Klausenburg) where he graduated with summa cum laude.